Stockcar F1 demo race Mariënvelde 12-13 Augustus a.s.
Tijdens het dorpfeest en de Internationale Combinerace in Mariënvelde op 12 en 13 augustus a.s. zal er een Stockcar F1 demo race worden verreden door 4 Stockcars F1:
- Ernst Jeninga #70 (Stockcar F1 'Two-Seater')
- Raimon Vos #40
- Johan Goos #36
- Ronald van Baren #111
Locatie van het evenement
Locatie: Terrein aan de Zanddijk
Adres: Zanddijk/Zompweg Mariënvelde
Gelegen in: Gemeente: Oost Gelre
Gebied: Westelijke Achterhoek
Provincie: Gelderland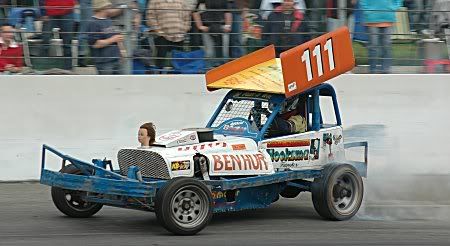 Bereikbaarheid
Bereikbaarheid: Vanuit de plaatsen rondom Mariënvelde, is de route naar het evenement uitgepijld met bordjes met daarop "Combinerace Mariënvelde". De lokatie is het makkelijkst bereikbaar via Halle, Halle ligt op de weg van Varsseveld naar Zelhem of visa versa, plaatsen die op elke wegenkaart vermeld staan.




www.eric-experience.com

Organisator, eigenaar of management
Organisator/management: MCM Mariënvelde
Contactpersoon: Dhr. S. Beerten
Telnr.: 0544-352245
Website: www.sint-isidorushoeve.nl
Geopend
Geopend van: 13-aug-2006 tot 13-aug-2006
Tijden vanaf: 11:00 tot: 17:00
Zaterdagavond 12 aug. begint het Dors(t)feest om ca. 20:30 uur. Het combinefeest op zondag begint om ca. 17:30 uur.


Toegangsprijzen
Volwassene € 8.00 p.p.
Entree zaterdagavond 12 augustus Dors(t)feest € 5,00 p.p.
CombineFeest op zondag gratis entree




www.stockcar-f1.com




www.go-to-asf.com




www.twsp.nl