Opgave Landstockcars F1 voor deelname Nachrcross Kessel.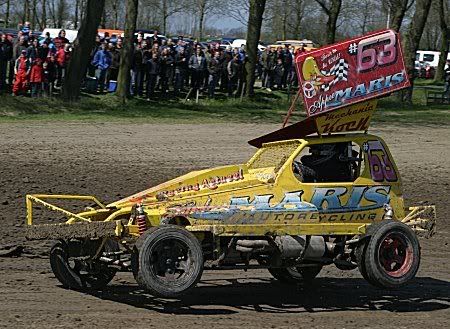 Autocross nieuws: '10 Jaar Nachtcross Kessel 'ACC The Blue Birds' 4 en 5 Augustus 2007'

Organisatie nodigt Stockcar landrijders uit!
In het Limburgse Kessel worden al vele jaren Autocross wedstrijden georganiseerd en verreden. Dit jaar wordt er voor de tiende keer de Nachtcross verreden en dit wil de organisatie 'ACC The Blue Birds' groot aanpakken en vieren.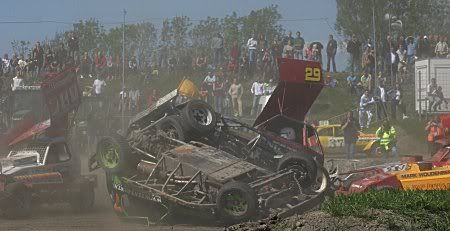 Zij nodigen de Stockcar Landcoureurs uit om op 4 en 5 augustus naar Kessel te komen om daar te komen rijden.
De organisatie 'ACC The Blue Birds' biedt de coureurs landstockcars het volgende aan:
- € 200,00 startgeld
- bekers
- prijzengeld
- Zaterdag 4 augustus, 3 tot 4 keer rijden
- Zondag 5 augustus, 3 keer rijden + finale
- Coureurs dienen zaterdag om 12:00 uur middags
aanwezig te zijn.


Tevens is er zaterdagavond na de nachtcross een MEGA PARTY in de grote feesttent.
Een 'Drive in Show' zal voor de nodigen muziek zorgen en als speciale gast zal er een optreden plaatsvinden door Limburgs bekendste artiest '…?...'.
Wil je weten wie deze artiest is! Kom dan naar dit feest dat voor iedereen gratis toegankelijk is.

Er zijn 10 bekers te verdelen met het volgende prijsengeld;
1e 175,-
2e 150,-
3e 100,-
4e 75,-
5e 50,-
6 t/m 10 25,- euro
Zaterdag word gereden voor de punten die meetellen voor de Zondag.


Voor meer info kijk dan op:
- www.thebluebirds.nl
- www.hanssemanracing.nl
Of stuur een mail naar: hansseman@hetnet.nl

Foto's: ASF (www.go-to-asf.com)