Oval Racing Experience 2007, NEC Birmingham 11t/m 14 Januari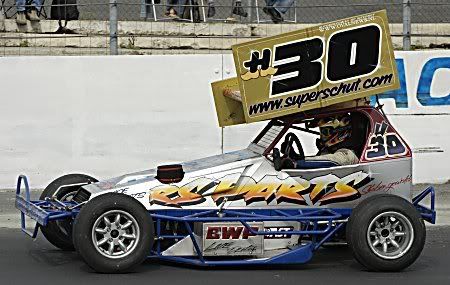 Spectaculaire races in de indoor show arena uit de diverse Autosport en Autospeedway. Onder anderen races in Stockcar F1, National Hot Rods, Stockcar F2, Superstox, V8 Stockcars en veel meer. Voor Nederland zal Stockcar F2 coureur
'Toon Schut
' deelnemen tussen de vele Engelse race kanonnen.
The Oval Racing Experience 2007 will once again take place at the NEC Birmingham as an integral part of Autosport International 2007 together with The Oval Racing Spectaculars in the Live Action Arena at 6pm on Saturday 13th and 4.30pm on Sunday 14th January 2007.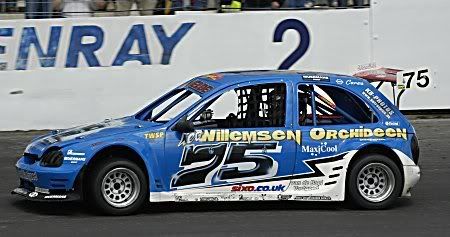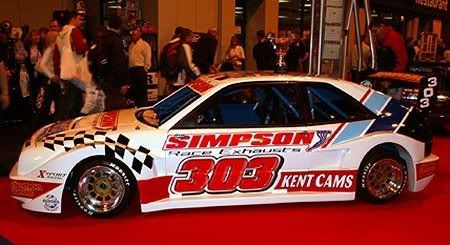 The Oval Racing Experience now located in Hall 11 will once again be forming an integral part of Autosport International 2007 at the NEC Birmingham on Saturday 13th and Sunday 14th January 2007.
Building on the success of 2006 this new look area will feature non-stop stage action, celebrity interviews and awards, together with new car and product launches.
Dancers Carly, Nicola, Julie and Rebecca from Renegade will again be performing on the stage in Hall 11 four times each day.



Formula Line- Up
Saturday 13th January 2007 Start Time 6 pm
F1 Stock cars
- National and 2.0 Hot Rods
- Superstoxs
- National Autograss Class 7
- F2 Stock Cars
- Speciality features and entertainment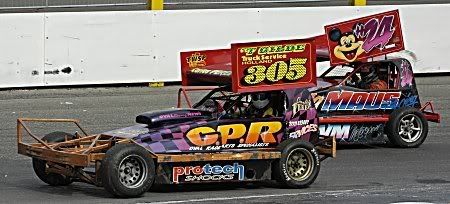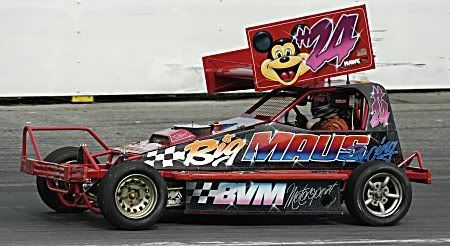 Sunday 14th January 2007 Start time 4.30 pm
- V8 Stock cars
- National Autograss Class 7
- F2 Stock cars
- Hot Rods
- F1 Stock Cars
- Speciality features and entertainment
Watch the cream of British drivers battle to harness the sheer power and noise created in the unique atmosphere of the NEC
The BriSCA F1s will once again be thrilling the crowds in the Autosport International Live Action – both in the main daytime shows and in the Oval Racing Spectaculars at 6pm on Saturday and 4.30 pm on Sunday.

The F1s are always a show stopper and 2007 is certain to continue this tradition. Listed below are some of the drivers that will be appearing in the shows.
Make sure you pay the BriSCA F1 stand a visit in the Oval Racing Experience in Hall 11 where static cars on show will include the Mike Harris machine.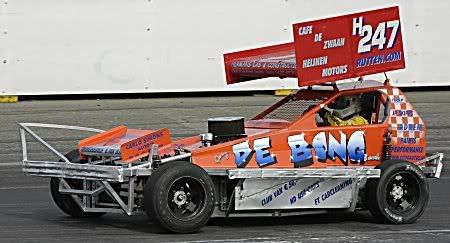 The Stockcar F1 drivers for the live action are as follows
390 STUART SMITH JNR (RUNNER UP IN THE BRITISH
CHAMPIONSHIP)
259 PAUL HINES (FORMER EUROPEAN CHAMP)
33 PETER FALDING (MULITPLE WORLD CHAMPION)
434 IVAN PRITCHARD (FORMER UK OPEN CHAMPION)
97 MURRAY HARRISON (FORMER UK OPEN AND
WORLD& EUROPEAN CHAMPION)
4 DAN JOHNSON (STAR OF THE FUTURE )
484 CRAIG UTLEY (2006 SCOTTISH CHAMPION)
91 TONY SMITH
107 LEE ROBINSON
22 WILL YARROW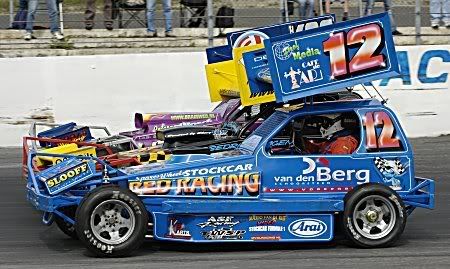 The Stockcar F2 drivers for the live action are as follows

Profiles of Drivers taking part in the racing on Saturday 13th and Sunday 14th January 2007.
38 Dave Polley
Son of former Hot Rod legend George, Dave has established himself as one of the hardest and fastest F2 Stock Car drivers over the past couple of years and finished second in the National Points in 2006.
79 Gordon Moodie
The top man of F2 Stock Cars. World, European and National Points champion as well as beating many other records. Always fast, always competitive and could well be in a new car from local chassis constructors RCE for this event.
152 Mick Sworder
One of the most feared competitors out on the track, many an F2 driver over the 14 years Mick has been racing have felt the force of his front bumper. So, therefore look out for some form of entertainment from him in this event!
324 James Thackra
James is a driver who gets the job done more quietly than some of his rivals, but he still gets it done or else he would not have been British Champion in 2002 and 2003 and European Champion in 2004 as well as an evergreen star grader.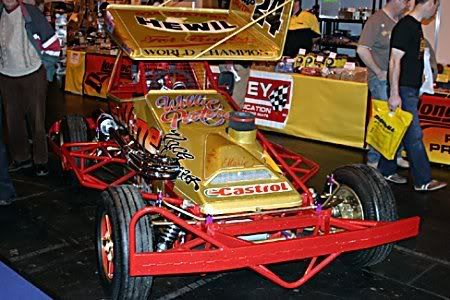 393 Chris Cuming
Chris is a real rising superstar of the future. Really come to prominence over the past two seasons as a hard and fast driver not only in his native west country, but the country as a whole. Should be in a new car for this event.
480 Garry Sime
Garry is an up and coming young Scottish driver who put in some good performances not only on his home track of Cowdenbeath but on away trips too. He has a bright future ahead of him, and being part of this show is a continued building block of it.
559 Bert Finnikin
Now a true veteran of the oval raceways, a former F1 World title holder and but the F2 World has eluded him, at least so far, despite massive success especially on the shale tracks.. Built a stunning retro style car for the 2006 season, and should be driving that for this.


667 Tim Farrell
Another true entertainer of F2 Stock Car racing, not only on the track but off it too. A major title finally came Tim's way in 2006 when he won the British Championship. This coupled with other victories saw him finish third in the National Points. Could have his new car ready for this event.
676 Neil Hooper
Neil had his best ever season in 2006, topped off by winning the English Open Championship as well as the track points at both Bristol and Taunton. Another driver who quietly goes about his business on track, but can never be discounted.


871 Mark Simpson
A true all-rounder of F2 Stock Car racing, in that he is competitive on both tarmac and shale tracks and more to the point often in the same car. He came tantalisingly close to winning the World title at Mildenhall in 2006, leading the race for much of the way and only missing out on the final corner.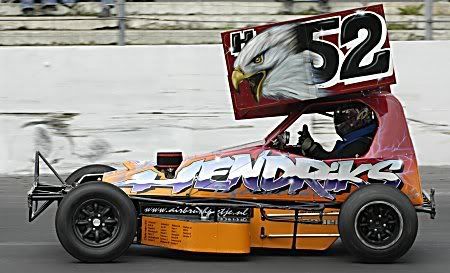 H30 Toon Schut
Despite not winning the World Championship (yet!) Toon is easily the most successful and spectacular F2 Stock Car racer the Netherlands has produced. He was unbeatable at home during 2006 winning all the major titles and points championships he contested.
NI901 Ian Thompson Jnr
Many have tipped Northern Ireland's Ian as a future World Champion in F2 Stock Cars. He did leave the sport for National Hot Rods for just over a season, only to return last summer and is ready for a full assault in 2007 and will relish being part of this event.

Meer info: www.autosport-international.com