Sprintcar nieuws: 'HUNT LOOKS TO CAP STELLAR SEASON AT PRESTIGIOUS TURKEY NIGHT'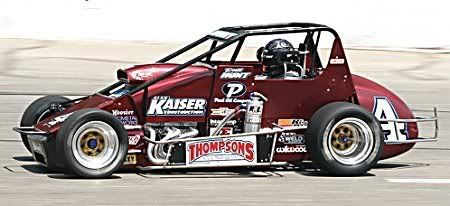 It would be hard to script a better 2006 season for Tony Hunt than the one he is putting the finishing touches on. With the season-ending Turkey Night Grand Prix still on the schedule, Hunt is hoping for a happy ending to a year filled with smiles.
"We set our goals high and worked hard to achieve them", said the popular 33 year-old. Another championship in the USAC Western Sprint Car Series was the first goal for Hunt. That has been achieved already – with Hunt clinching the title before the season's final race. If Hunt could win the sprint car portion of Turkey Night at Irwindale Speedway, as he did in 2001 on Thanksgiving evening, he could achieve wins in half of the series' scheduled 14 events.

"Six wins in the sprint car is great but seven sounds nicer", he said via cell phone on his way to the Oakland shop of midget car-owner Bob Rosen.
Hunt will team with NASCAR Nextel Cup driver Casey Mears in one of Rosen's Mr. Espresso, Red Line Oil, Justice Brothers #4 midgets in the headliner at Irwindale. Together Hunt and Rosen scored two A-main wins in special appearances at 2006 USAC Western Midget events. In 2004, Hunt scored the fastest qualifying time at Turkey Night driving for Rosen.
Time-trials have always been an area of success for Hunt, a driving instructor that now mixes in the occasional 'stunt driving' gigs in Hollywood movies. This season, Hunt has a sprint car series high, four quick-qualifying efforts, in the Alan Kaiser owned Thompson Toyota, Paul Oil # 4. As such, Hunt has wrapped up $3,000 in bonus money for 2006 from Earl's Performance Products.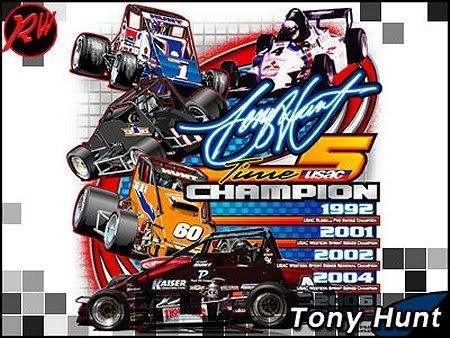 The Earl's Fast Qualifier championship trophy may sit in Hunt's Lincoln, CA home next to his trophy for winning the 2006 USAC/CASA "Best in the West" championship. That title was also earned this season as Hunt dominated the races CO-sanctioned by the California Asphalt Sprintcar Association.
If Hunt's on-track success weren't enough, he also enjoyed being married in Canada earlier this year to bride Philippa. His latest big screen driving performance came in Will Ferrell's huge hit, Talladega Nights, the Ballad of Ricky Bobby.
"I want to finish strongly at Irwindale", Hunt said. "You know how it is, it's always 'what have you done lately' that matters. Certainly we've had a great season but without success on Turkey Night, the off-season can seem longer than normal."

2006 USAC Western Sprint Car Series Champion
2006 CASA California Asphalt Sprint Association
2006 USAC / CASA 'Best In The West' Champion
2006 Earl's 'Fast Qualifier' Champion

Season Stats: USAC Western Sprint Car Series
13 Races
6 Feature Wins
12 Top Five finishes
4 Fast Times