Zondag 24 september 'Trophy of the Dunes'
De traditionele Trophy of the Dunes op Circuit Park Zandvoort worden dit jaar verreden in het weekeinde van 23 en 24 september. Zaterdag 23 september zijn de kwalificatietrainingen en twee races waarin aan de start komen, de Shell Helix Seat Cupra Cup en de Pirelli Ferrari Formula Classic Series. Zondag 24 september begint het fraaie raceprogramma, met acht wedstrijden, om half tien in de ochtend en duurt tot 's middags vijf uur.
In het gevarieerde programma komen de volgende klassen aan de start: Dunlop SportMaxx Clio Cup, BenQ-Siemens BMW 130i Cup, Van Uitert Formule Ford, Shell Helix Seat Cupra Cup, en de Pirelli Ferrari Formula Classic Series.
Voor iedere bezoeker is er geheel gratis het full colour programmablad, met allerlei wetenswaardigheden over de wedstrijden op 23 en 24 september op Circuit Park Zandvoort.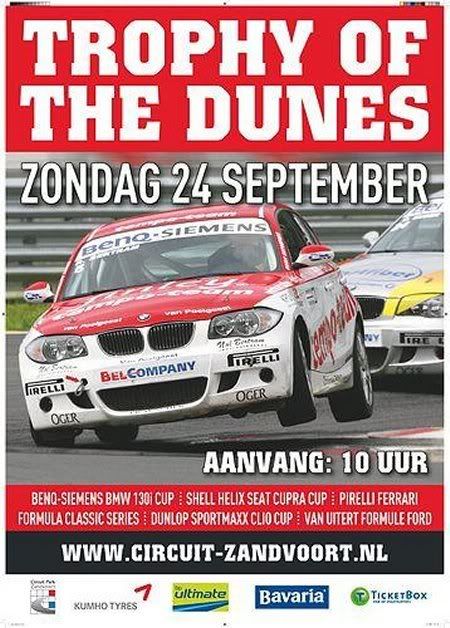 Zandvoort is uitstekend te bereiken, u hoeft niet bang te zijn voor files. Hoe? Pak de trein! Het kan immers druk zijn op de wegen naar en van Zandvoort. Daarom is de trein een uitstekend alternatief. Het circuit ligt op slechts tien minuten wandelen van het NS-station Zandvoort.
De toegangsprijs tot de duinen bedraagt 12 Euro (tot 12 jaar gratis), een Paddockkaart kost 35 Euro (tot 12 jaar 50% korting). Deze kaarten zijn tevens geldig voor de trainingsdag, zaterdag 23 september. Voor de overdekte hoofdtribune geldt een toeslag van 5 Euro. Houders van paddockkaarten hebben gratis toegang tot de tribune,
Kaarten zijn vanaf heden verkrijgbaar bij alle vestigingen van TicketBox. Kijk voor de adressen op www.ticketbox.nl. , alwaar ook online te bestellen is.
Tijdschema
Zaterdag 23 september:
10:00 - 10:20 Kwalificatie Shell Helix Seat
Cupra Cup
10:30 - 10:50 Kwalificatie Race1 Pirelli Ferrari
Formula Classic Series
11:00 - 11:20 Kwalificatie Dunlop SportMaxx
Clio Cup
11:30 - 11:50 Kwalificatie Van Uitert
Formule Ford
12:00 - 12:20 Kwalificatie BenQ Siemens
BMW 130i Cup
12:20 - 13:20 Pauze
13:30 - 14:10 Race1 [12 rnd] Pirelli Ferrari Formula
Classic Series
14:25 - 16:25 Race1 [12 rnd] Shell Helix Seat Cupra Cup
Zondag 24 september:
09:30 - 09:50 Kwalificatie Race2 Pirelli Ferrari
Formula Classic Series
10:00 - 10:40 Race1 [12 rnd] Dunlop SportMaxx
Clio Cup
10:55 - 11:35 Race1 [12 rnd] Van Uitert
Formule Ford
11:50 - 12:30 Race2 [12 rnd] Pirelli Ferrari Formula
Classic Series
12:45 - 13:25 Race2 [12 rnd] Shell Helix Seat
Cupra Cup
13:25 - 14:15 Pitwalk
14:15 - 14:55 Race1 [12 rnd] BenQ Siemens
BMW 130i Cup
15:10 - 15:50 Race2 [12 rnd] Dunlop SportMaxx
Clio Cup
16:05 - 16:45 Race2 [12 rnd] Van Uitert Formule Ford




www.circuit-zandvoort.nl




www.colle-sittard.nl / www.colleracing.nl



www.bdj3.nl