Mattias Ekström wint Race of Champions 2006
Mattias Ekström heeft in het Stade de France in Parijs de Race of Champions 2006 gewonnen. In de zogenaamde Superfinale versloeg de Zweedse DTM-coureur de verdedigend kampioen Sebastien Loeb met verrassend gemak. Hierdoor mag Ekström zich het komende seizoen "Champion of Champions" noemen. David Coulthard, de enige Formule 1-coureur die dit jaar meedeed aan dit prestigieuze evenement, werd al vroeg uitgeschakeld door de Franse toerwagencoureur Yvan Muller.
De Race of Champions kende dit jaar een nieuwe opzet. Het deelnemersveld werd ingedeeld in twee groepen te weten de "rallygroep" en de groep met "circuitracers". Bij de rallygroep ging de finale tussen drievoudig rallywereldkampioen Sebastien Loeb en de rallywereldkampioen van 1995 Colin McRae. Deze finale werd overtuigend gewonnen door Loeb. Bij de "circuitracers" ging de eindstrijd tussen Ekström en Sébastien Bourdais. Ekström won deze race en was even later in de finale dus ook te sterk voor de Champion of Champions van 2005. De Zweed vierde zijn overwinning uitbundig.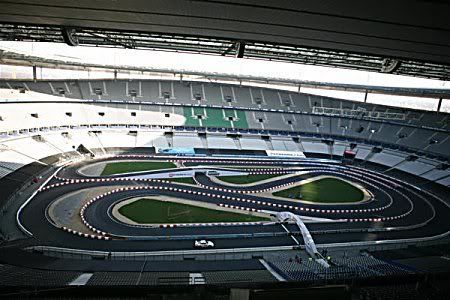 Net als voorgaande edities in het voetbalstadion in Parijs, was het Stade de France dit jaar druk bezet met volle tribunes. Naast de strijd om de titel Champion of Champions waren er ook enkele demonstraties. Zo gaf bijvoorbeeld Jonathan Cochet een show weg in een Renault Formule 1-wagen. Volgend jaar staat er weer een nieuwe Race of Champions op het programma, ook dan weer in het Stade de France in Parijs.