Kelly's luck changes at Oran Park: Lowndes assumes Series lead
Holden Racing Team's Todd Kelly salvaged some long lost pride from a wretched season with victory in today's opening race of round seven of the V8 Supercar Championship Series at Oran Park in Sydney.




At the same time Team Betta Electrical's Craig Lowndes assumed the overnight lead of the Series as early disaster tempered the weekend of Toll HSV's Garth Tander. But Tander's team-mate Rick Kelly finished third, moving him into second overall.

But the day belonged to Kelly Snr who has battled all year. Ironically his team-mate Mark Skaife, who had led the race and looked set to win in a canter, suffered from gear box problems just like Kelly has and failed to finish the race.
"I thought it would turn around well before this," Kelly said.
"There have been a few races where the car would have been awesome but things just kept going wrong. There have been glimpses of great car speed all along but this is the first time we've been able to turn it into a race win.
"My role as a driver has changed a little bit. There's a lot more things we can try on may car now and we can speed up our development a little. It's not going to cost us a Championship and every so often it pays off."
Lowndes benefited heavily from Tander's misfortune and assumed the lead with victory in the first of three races over the weekend that will signal the start of a clear run to the Championship finale later in the year.
"It's great for us and great for the team but we've got a long way to go," Lowndes said.
"We've got to get through this weekend yet then on to the enduros of Sandown and Bathurst where anything can happen. We just have to keep knuckling down and scoring points."
With Tander dominating all year it was a piece of great misfortune that he failed to finish the opening race. But when the 'drop your worst round' format is applied Tander does not suffer too heavily from the run of bad luck.
Disaster struck for Skaife on lap 15. A gear box failure, an area that has been a problem for the team and mostly his team-mate Todd Kelly, meant the greats' race was over and the work now to be done to make up lost ground tomorrow.
"We were leading the race comfortably and I had a great car – to say I am disappointed would be a huge understatement," was Skaife's only comment.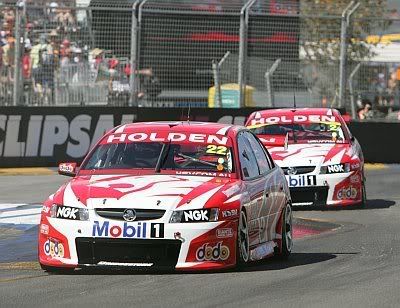 Jason Bright and Ford Performance Racing team-mate Mark Winterbottom were 1-2 in their twin Falcons in an electrifying qualifying session. Skaife left the best until last with fourth place on his very last lap before the flag.
Reigning Series and Oran Park defending champion Russell Ingall was nowhere to be seen – finishing a lowly 23rd in qualifying.
Bright converted in the Top 10 shootout just as it appeared a sizzling lap from Skaife was going to take pole position. Bright took it from underneath him for his third pole position of the year for the in-form team.
But Bright had a horrible start to race one, losing four places before the first corner.
Meanwhile, Howard Racing's Adam Macrow has won the first of three races at round four of the Fujitsu V8 Supercar Series. Macrow led the 16-lap race from start to finish after he stormed off the line and lead into the first corner from fellow Ford driver Michael Caruso.
Caruso scored his first pole position of his young V8 Supercar career earlier today ahead of Macrow, Stone Brothers Racing endurance driver Luke Youlden and Holden's Nathan Pretty.

More info: www.v8supercar.com.au




www.v8supercar.com.au