Collé Rental & Sales: 'Robin Frijns Formula BMW Europe Rookie of the Year 2009'
De feestvreugde zat er goed in bij de jonge coureur Robin Frijns en het Josef Kaufmann Racing team. Robin Frijns (Frijns is een goed bevriende zakenrelatie van Collé Rental & Sales) heeft in de Formule BMW Europe een derde plaats in het algemeen klassement naar zich toe getrokken en tevens heeft hij de titel 'Formule BMW Europe Rookie of the Year 2009' bemachtigd; twee mooie prestaties om op je CV te vermelden.


Weddenschap
Wat een weddenschap bleek te zijn werd nu werkelijkheid. Indien Robin Frijns Formula BMW Europe Rookie of the Year 2009 zou worden en tevens nog bij de eerste 3 in het kampioenschap zou eindigen dan werd er een feest gehouden. Zaterdag 24 oktober was het dan zover. In Mesch-Eijsden werd in Feesthoeve De Laathof een feest gehouden ter gelegenheid van Robin's behaalde resultaten. Familie, vrienden, sponsors en fans waren aanwezig. Bij binnenkomst stond de Formula BMW Europe racebolide al te pronken tussen de fraai behaalde bekers.


Many thanks to….
Nadat iedereen aanwezig was werd er kort terug gekeken naar het afgelopen raceseizoen van Robin Frijns. Ook werden diverse personen in het zonnetje gezet, waaronder teameigenaar Josef Kaufmann, zijn vrouw en zoon. Ook bedankte Robin zich bij alle mensen en bedrijven die hem het afgelopen jaar gesteund en gesponsord hebben om tot deze prachtige prestatie te komen !


2010
Als laatste maakte Robin zijn plannen bekend voor 2010. Opnieuw zal hij deelnemen in de Formula BMW Europe klasse en zal zijn nieuwe hoofdsponsor/team GRAVITY pronken op de racebolide. De lat zal nu nog hoger gelegd worden. "Ja, ik probeer in 2010 niet als derde maar als kampioen te eindigen. Bij iedere race zal ik voor 100% zeg maar 200% gaan", aldus Robin Frijns.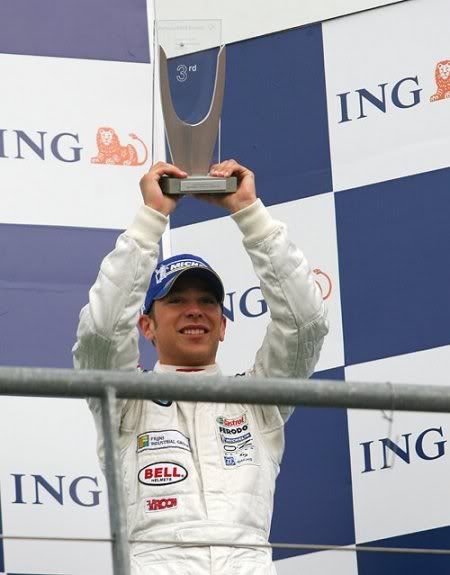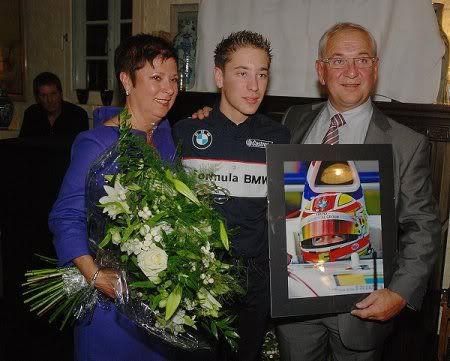 Informatie
Meer informatie over Robin Frijns en zijn team zijn te vinden op: www.robinfrijns.com , http://bmw-motorsport.com , www.gravity-sport.com en www.jk-racing.de


Bron: Media Collé Rental & Sales / Foto's Raceflash.nl en jk-racing.de